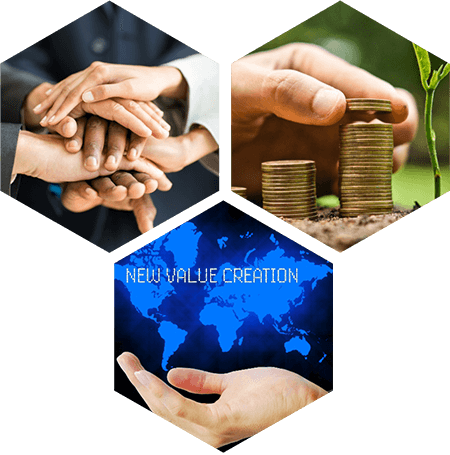 History
Ashapura Minechem Limited is the flagship company of the Ashapura Group and well known as India's largest mine owner & exporter of bentonite. It is among the top five global producers of bentonite with over 60 million tons of quality sodium and calcium bentonite reserves across the country. It has four decades of experience in processing bentonite and complemented by indigenous R&D, global technology, superior shipping & port infrastructure.
The company has activation, milling and processing plants in several locations in India. It has a wholly owned subsidiary and offices in the UAE & China.
Our Initiation. Our Presence
Established in 1960, Ashapura Group had started with Bentonite Business and thereby created a niche for itself by pioneering the development of industrial minerals in the country. Ashapura is India's largest multi-mineral solutions provider and responsible for moving almost 10 MMT of various minerals annually, worldwide. Refer www.ashapura.com for more details.
Listed on India's premier stock exchanges, Ashapura Minechem Ltd. (AML) is responsible for leading all the group activities and endeavours.
Along with being the pioneers of bentonite business in India , AML is also one of the largest exporter of traded Bauxite in the world and credited as the leaders in the country for Bleaching clay, Geosynthetic clay liners, clay catalysts and calcined bauxite.
Over the decades Ashapura has extended its reach immensely within India and internationally. Today it has a global presencewith processing plants at Belgium, Oman and marketing offices in Dubai, China. In India it has distribution centers all across country covering the entire span geographically as well as customer's hub. Comprising of mostly fortune 500 clients Ashapura has built strong partnerships with several companies for past few decades and at the same time reached out with its best products & services. Ashapura's products and brands have a global acceptance and recognition today which brings immense value for the group.
Our Standards.Our Acclaim
Ashapura is supported through its strategic locations and well planned manufacturing facilities world over. Its bentonite mining operations and reserves are centralized in Bhuj and Kutch in the state of Gujarat, India. Ashapura has three production facilities in and around Bhuj, and several other satellite plants in India. In addition, to cater specifically to the European market, it has a bentonite processing facility located in Antwerpen, Belgium. The same model has been replicated in Sohar, Oman for Bentonite.
Some of the core strengths which have helped Ashapura to reach out toits customers are:
Delivering reliable and cost effective products all across the globe as well as to corners of India
Continuous process of discovering new applications and growth areas based on fundamental studies on minerals
Employing fully mechanized techniques to maximize yield as well as to take care of the environment
Comprehensive supply chain network to facilitate exports to over 50 countries, across continents